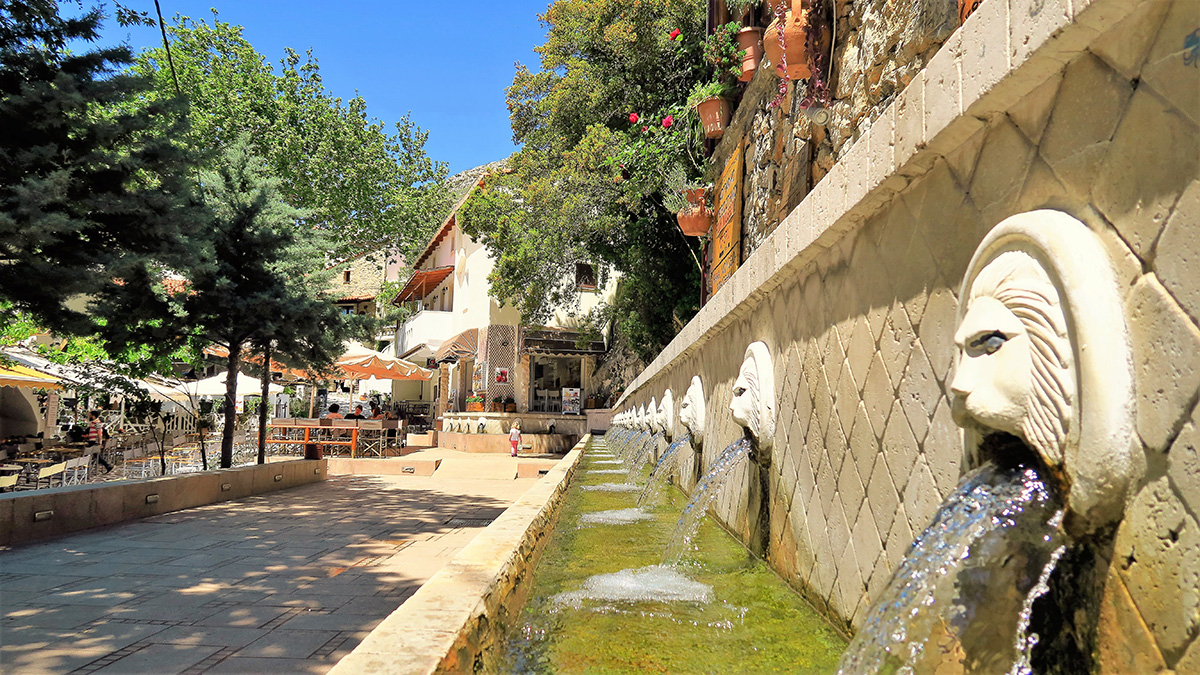 Rethymno adventures: Spili
Midway between Rethymno and Agia Galini the pretty village of Spili is a relaxing, rejuvenating place. Authentic and largely untouched by major tourist developments, (apart the coaches that bring day-trippers on their way to and from the south coast) Spili quietly combines its low-key tourism with being a market town and administrative hub for the local agricultural industry.
Set below the towering Vorizis mountain, Spili is most famous for the cooling spring waters that cascade from sculpted lion-head fountains at the village's main plateia – kefalovrissi – with its stretch of pleasant cafes shaded by plane trees and offering fountain-side refreshments from morning to evening.
Spili's location makes it an ideal stopping point for travellers to the south and the Plakias and Preveli areas in particular. Just 11km from the entrance to the Kourtaliotiko Gorge, one of Crete's most magnificent ravines, and just east of the Amari valley (the historic village of Gerakari is easily accessed from here), Spili is at the crossroads of central western Crete.
For a peak at how rural life was lived in Crete centuries ago, a visit to the town's eccentric Folk Museum is recommended. At the northern end of town up a cobbled alleyway, the museum is treasure trove of vintage artefacts, some dating back more than 200 years, and all lovingly cared for by the museum's creator and enthusiastic guide, Manolis. No entry fee but donations welcome.
Folk handicrafts are a speciality of the village and excellent traditional fabric shops are to be found on the main street.
BEST BITES
Kafeneio Raftis
Join the elders of Spili's community for a Greek coffee or mezzedes with raki at this classic traditional no-frills kafenio on the main street. Cretan hospitality doesn't get more authentic.
Mylos Cafe
Easy going, friendly and contemporary, Mylos makes a perfect snack stop opposite the gushing lions' heads. Good coffee and breakfasts. Tel. 2832 022481
Taverna Maria & Kostas
Maria & Kostas' taverna with its red chequered tables set on their leafy road-side terrace serves traditional Cretan favourites at rock-bottom prices. Family run, simple and friendly. Tel. 2832 022436
Taverna Yiannis
The Maravelakis family are the perfect hosts at this popular taverna that has a loyal following of devotees. Value for money Cretan favourites are found at this restaurant in the centre of town. Tel. 2832 022707
To Sideradiko
This is traditional Cretan cuisine at its best, lovingly prepared by owner and chef Nikos who beckons guests to his open kitchen to view the amazing range of delights on offer. On the left as you head out of town towards Agia Galini. Tel. 697 369 7116
As Greece continues to navigate the COVID-19 pandemic and with precautionary measures possibly in force, people wishing to visit museums and similar locations are advised to contact the organisation directly to confirm accessibility.
Photo: Tango7174/Wikimedia