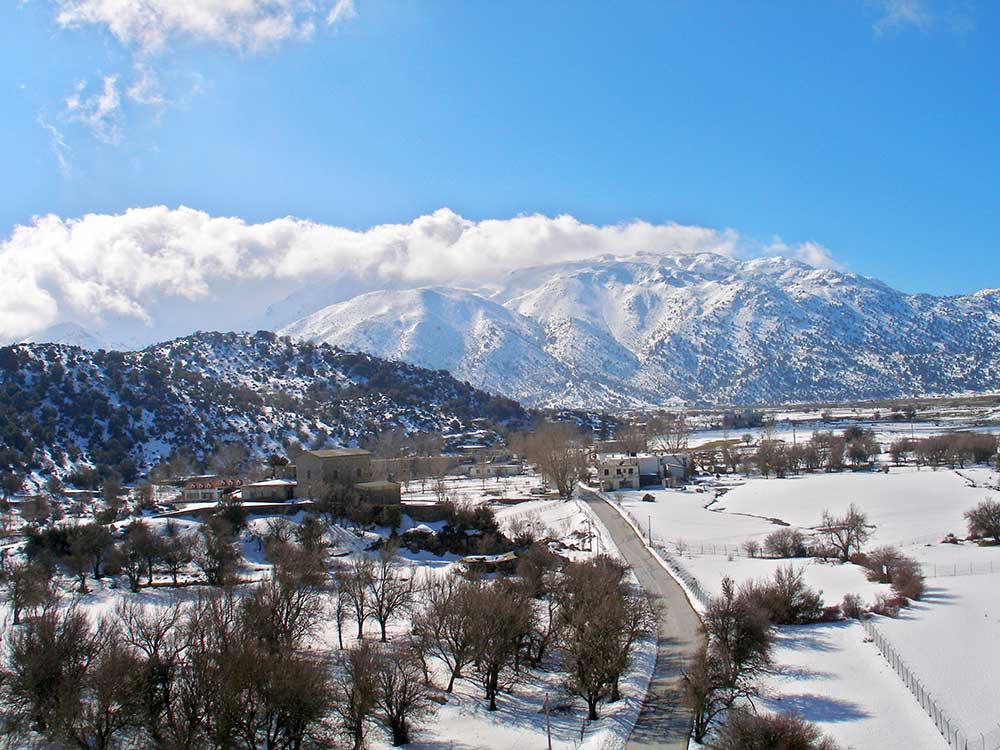 Crete: Europe's Most Surprising Ski Mountaineering Destination
Few tourists know that Crete once had a ski resort. It was up on the Nida Plateau in the Psiloritis mountains in the island's Rethymno regional unit. Construction began in 1977, and the resort welcomed its first guests in 1980. Due to poor accessibility on an unpaved dirt road and poor electrical infrastructure, the resort closed after a couple of years. It lies today abandoned, in ruin some 1500 meters above sea level.
Despite the shortcomings of the late 1970s project, skiing is not dead on Crete. On the contrary: it made a strong comeback in the past seven years due to Pierra Creta's initiative, the southernmost ski race in Europe, which occurs in the Lefka Ori and Psiloritis mountains of Crete. The race attracts more than 400 competitors from all over Europe annually. The contestants prefer skiing in Crete for the wild and pristine nature of its mountains and a feeling of isolation unlike anywhere else in the world.
Crete is favored for mountaineering skiing by outside races too. Although it doesn't have a proper ski resort, the island has accommodation close to the slopes for those who want snow adventures.
Main Destinations for Ski Mountaineering on Crete
The Mountaineering Club of Chania manages the Kallergi Mountain Refuge in the Lefka Ori mountains, which can accommodate 45 people and serve breakfast and dinner to its guests. The refuge is available year-round for nature enthusiasts who enjoy and of the following activities: hiking, trekking, caving (spelunking), birdwatching, wildlife and photo excursions, and skiing.
The Mountaineering Club of Heraklion manages the Prinos Refuge on the eastern part of Mt. Psiloritis. You must walk to access the refuge – there's no other way – so prepare for a good hike. Prinos has room only for 30 guests, but excellent conditions to reach the forest of Rouvas in a four-hour hike and Nida Plateau in eight hours.
The Mountaineering Club of Rethymno manages the Shelter of Toumpotos Prinos at some 1600 meters above sea level on the Western side of Psiloritis. It has room for 30 guests and is available on request by contacting the Mountaineering Club of Rethymno via phone or email. It takes a four-hour hike from the village Fourfouras to access the refuge. The trail is part of the E4 European Long Distance Path and is appropriately marked.
Besides ski mountaineering in the Lefka Ori and Psiloritis mountains, you can choose the Dikti mountains in the Lasithi regional unit, east of Crete, for adventures in the snow.
All these destinations are equally beautiful in warmer months when you can see the islands' flora taking over the slopes and painting a fantastic landscape of greens and blooms.