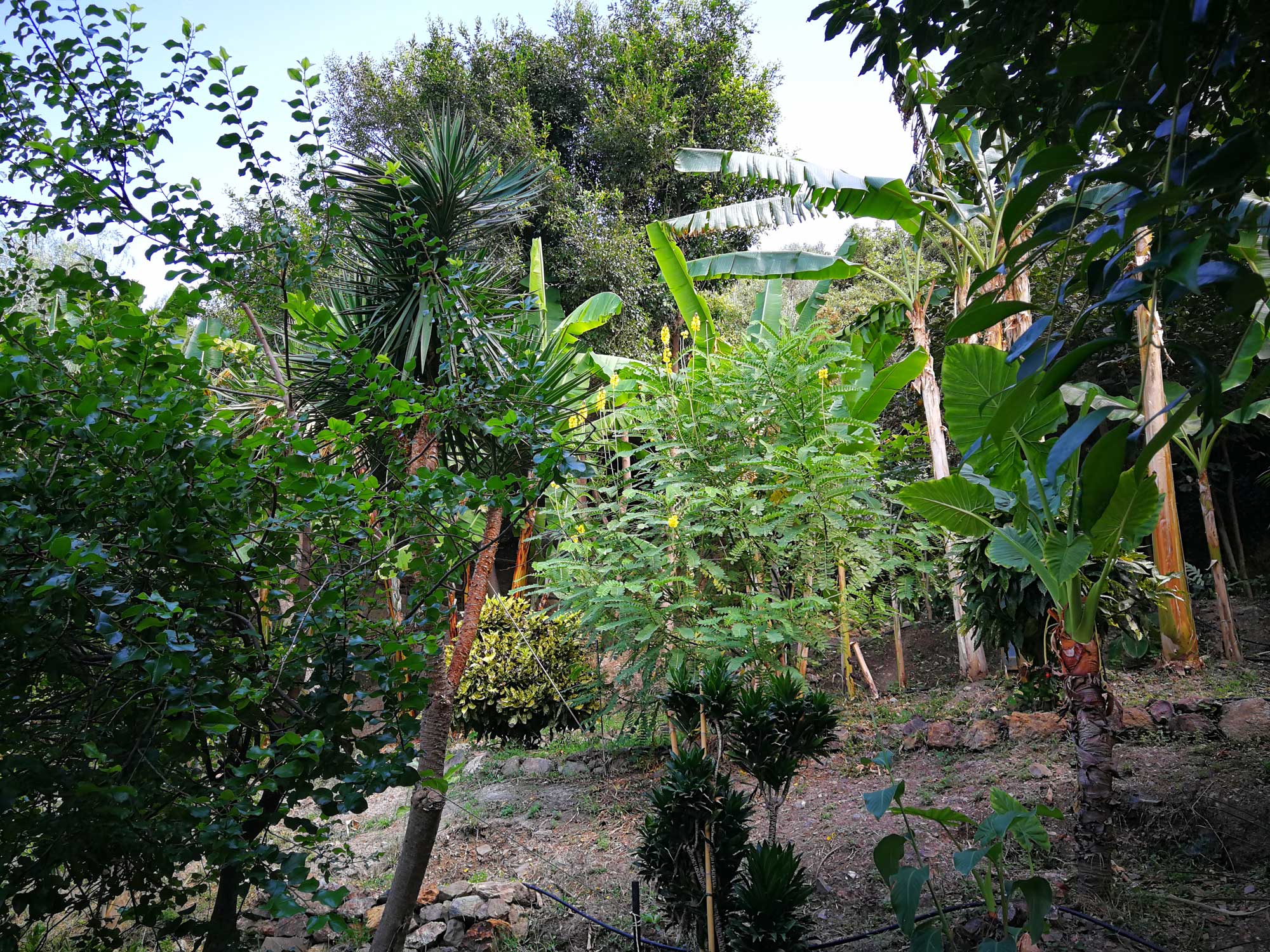 Must-see in Chania: The Botanical Park & Gardens of Crete
4.
Must-see in Chania: The Botanical Park & Gardens of Crete
They call it the Eden of Skordalou, but unlike the biblical gardens, this particular attraction is young and man-made. A few years back – no more than a couple – the Botanical Park & Gardens of Crete did not have much to offer. Today, however, they rank among the best in the world.
These gardens stand testimony of what can be achieved in a very short time. They were planted after a devastating fire that decimated olive and citrus groves here in 2004. The gardens – as they are today – are a labor of love, constantly cared for by Petros Marinakis and his family.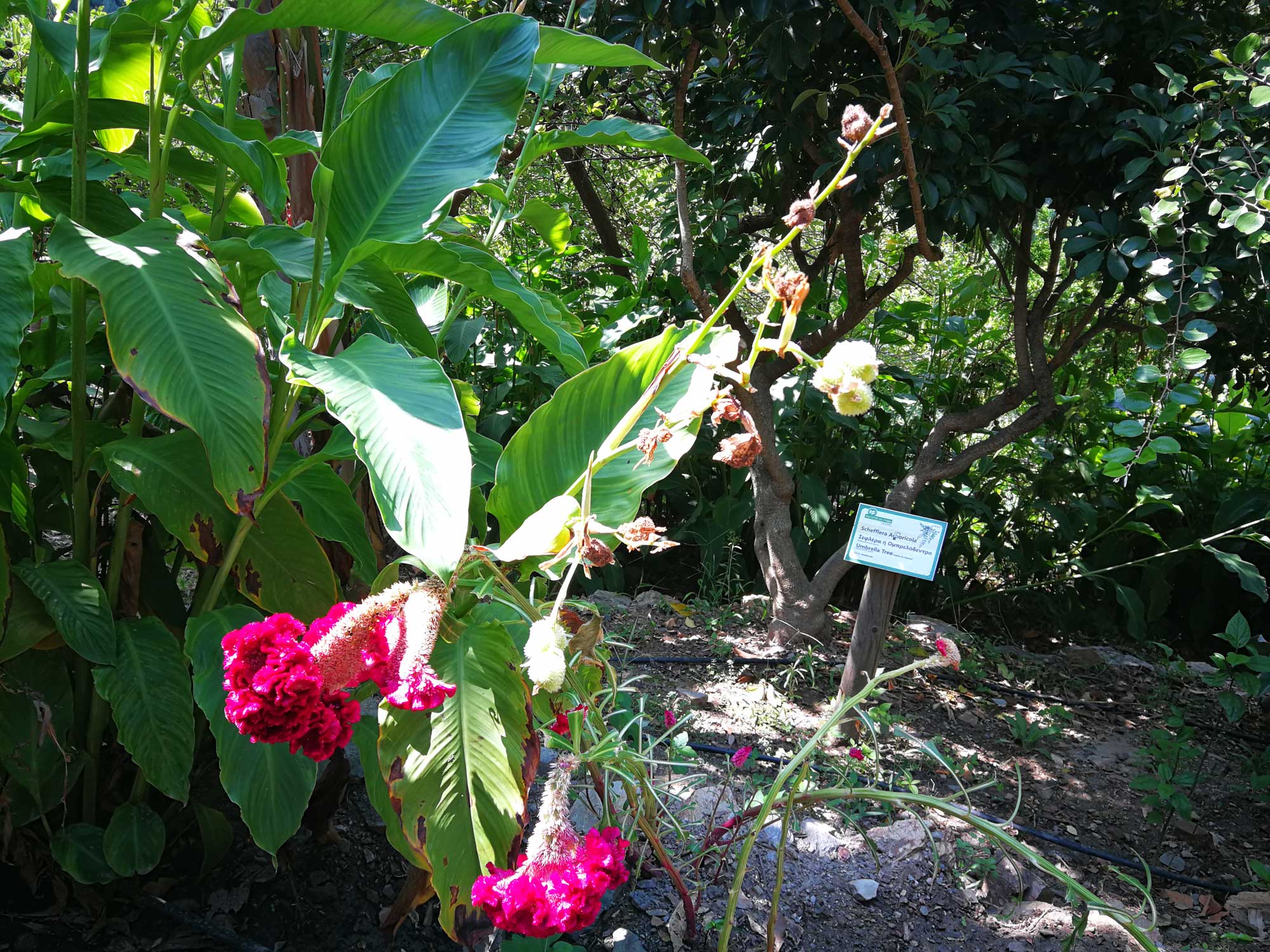 The gardens are in Skordalou, a village up in the mountains, about 20 km distance from the coastal town of Chania. They can be accessed easily on the main road, although exploring the park can be a challenging task.
The terrain is steep and uneven, even difficult at times. Small children will have a hard time keeping up the pace, and the elderly with mobility issues or heart illness should not even consider it. The descend is OK, although proper hiking shoes are required for safety and comfort. But, when you head back up, you'll challenge your joints and stamina. Plus: there's no way to call for help if you have an emergency and you don't have your mobile phone with you. Be advised that, although a 500 ml bottle of water is included in the admission price, it is not enough to keep you going under the scorching Cretan sun in the summer. Better bring along supplies – as in more water.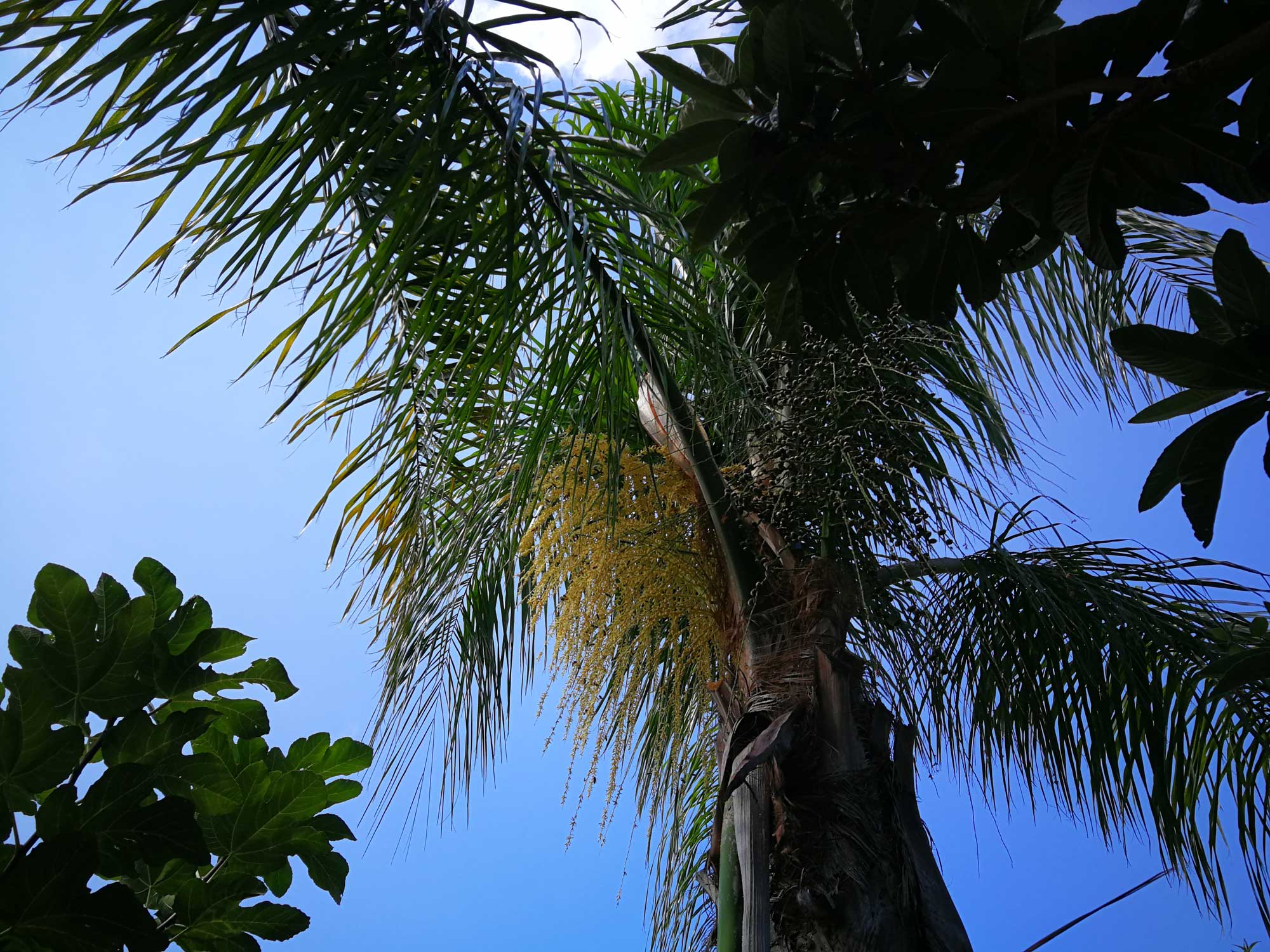 These, however, are minor details compared to the beauty of the gardens. Some said about this Cretan wonder that it's a utopia of flowers. But then, the place is real and, yes, it exceeds expectations – especially if active travel is your game.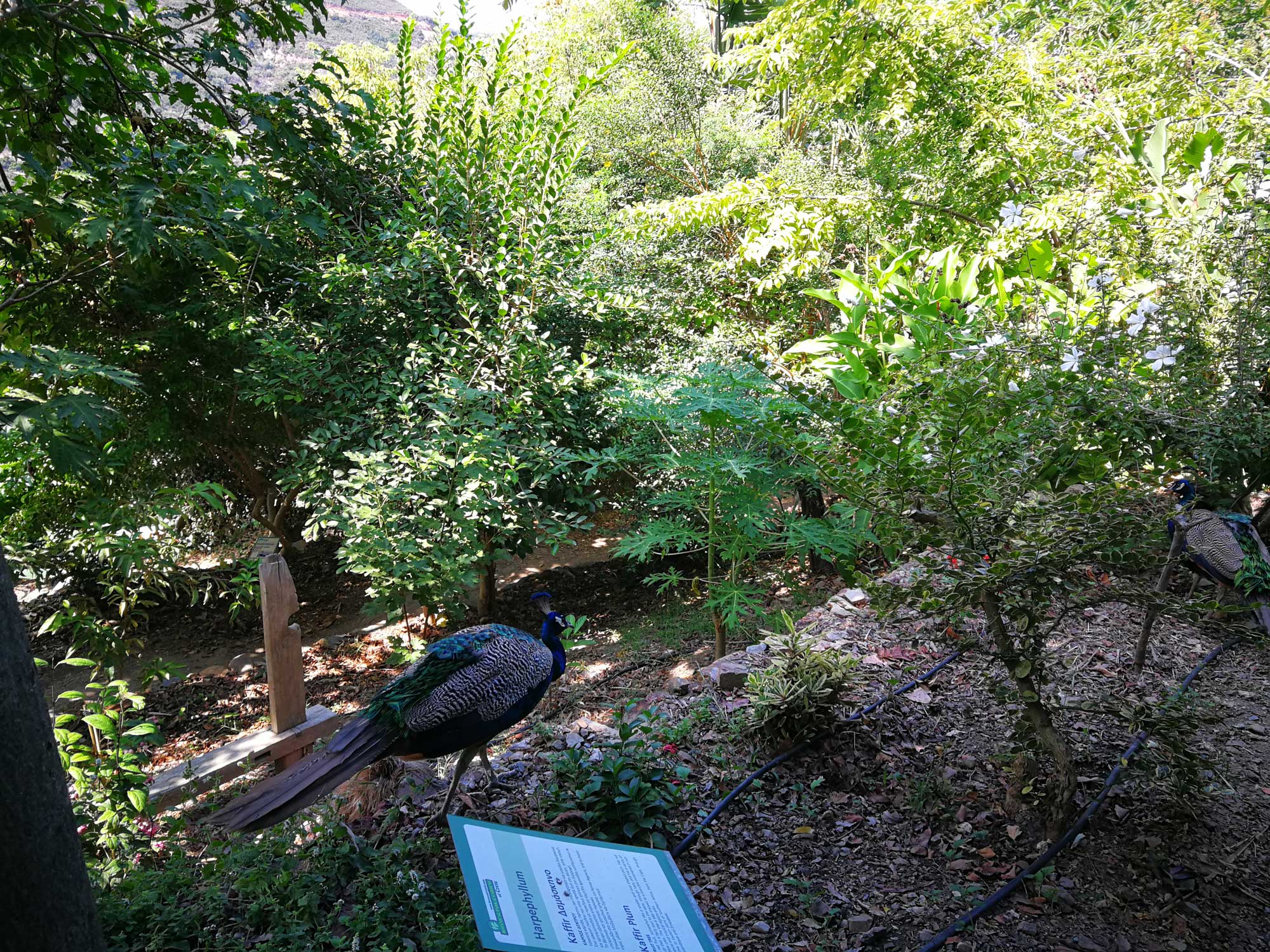 At the bottom of the valley there's a small man-made lake – an enchanted mirror under the azure of the skies, reflecting the verdant terraced gardens in postcard-pretty tones. This is where you will also find the modest "zoo" of the gardens – a mere animal farm caring for some deer and a lonely donkey. But peacocks roam freely all over the park, so step lightly or else you will disturb the birds.
After visiting the park and gardens, you may want to stop for a fresh orange juice in the restaurant they have here. They serve creative Cretan fare too. As a memento, you can buy a botanical paperback or a cookbook from their small specialty food market if you are not into carrying back home preserves, oils, or alcoholic beverages.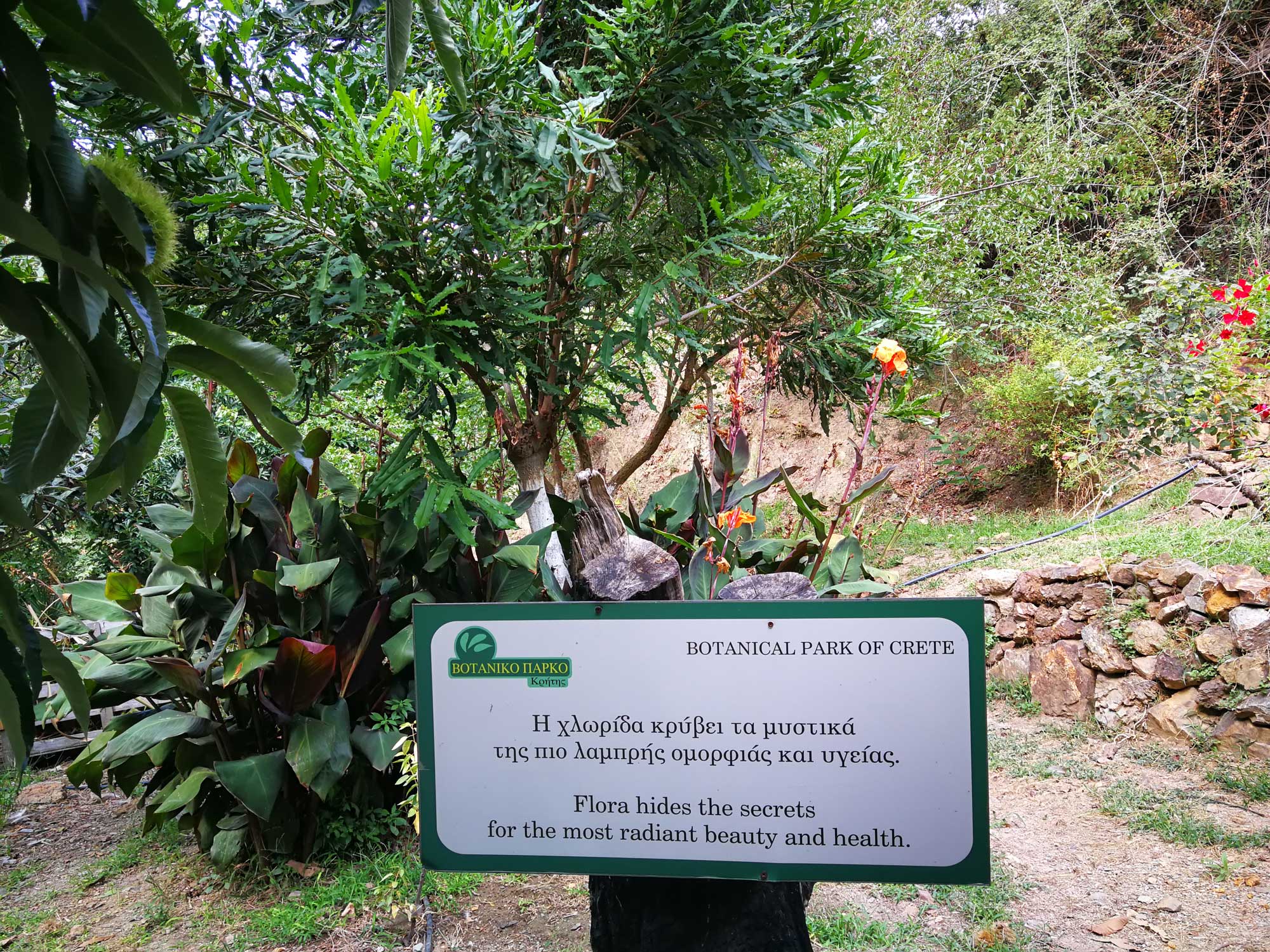 Fortunately, the gardens are open year-round, and each season brings new life to these slopes. It's a constant symphony of green and color at Skordalou, so visit it whenever you please. Summers are hot, but the rest of the season, from November until April, can be pleasant for a power hike – although rains will make the walk very difficult.
All images © Mihaela Lica Butler. Used with permission.