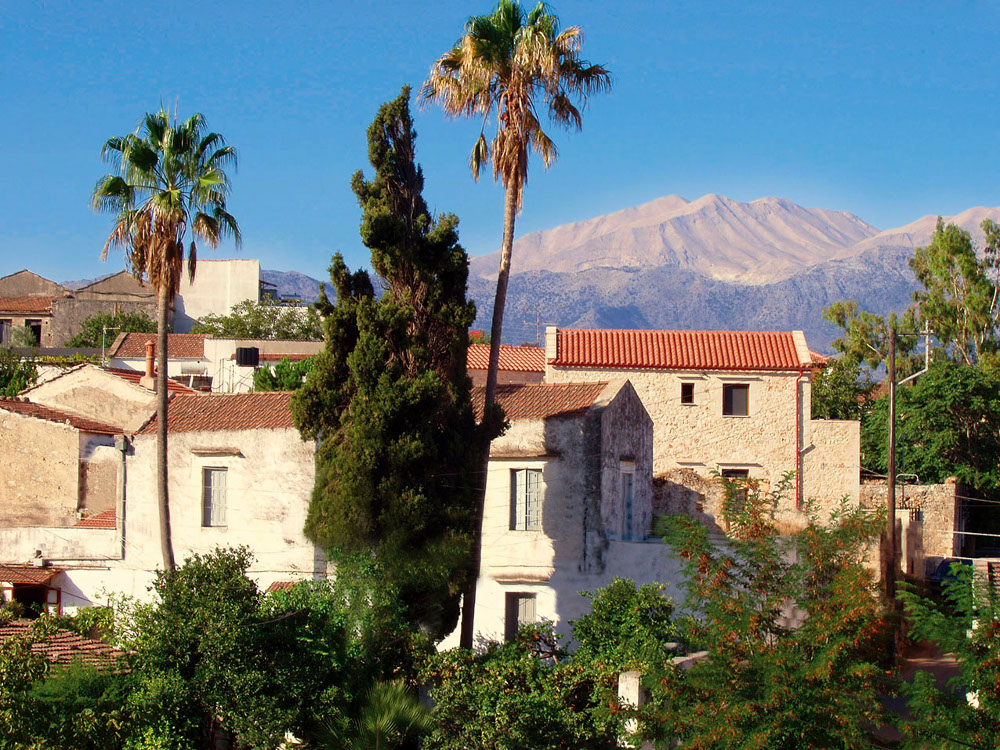 Visit Vamos: the village reborn
Vamos – A Charming Cretan Village
A trip to Vamos, eleven kilometres northwest of Georgioupoli, makes a great day-excursion. Once the capital of the Sfakia and Apokoronas, this is a traditional village dating from the 12th century that exudes charm and authenticity. Offering rich insights into Cretan culture and history, with a handful of fine tavernas, traditional cafes, and a thriving local arts and music scene, Vamos is one of the most active and colorful traditional villages in the Chania region.
Like many rural hamlets in Crete, Vamos was almost abandoned 40 years ago, with many of its younger generation having left. But the trend was reversed in the 1980s when many of those who had gone to study in Athens and find work there returned, determined to bring the village to life. And at the heart of this rebirth was the arts and music in particular. They created a summer music festival which still runs each summer, and in the 1990s the initiative became the catalyst for the restoration of many of the village's ancient stone houses, transforming buildings from the 18th and 19th centuries into traditional guesthouses, cafes, and shops. Today Vamos Traditional Village comprises 25 cottages and another ten in outlying villages. It was a project that saw the village's economy revitalized.
Well known across Crete for its fine traditional cuisine
, Vamos is a gastronaut's paradise. Marouvas Taverna on the high street serves hearty Cretan classics (try their slow charcoal-roasted pork) while opposite the main church is Oloi Mazi is an informal kafeneion-type favorite. I Sterna tou Bloumosifi on the main street is widely regarded as one of the best rural tavernas in Crete. Their rooster with home-made pasta and tomato sauce is divine. Check out the friendly cafe Ano Kato nearby for very good coffee and cocktails.
Art, creativity, and music are at the heart of the Vamos experience. Look out for concerts at Raki Bar at Hasomeri (in Vamos' old neighborhood), organized by Vamos Art & Thought and its founder Yiorgos Hatzidakis – a pioneer of the village's redevelopment over the past 30 years.
Time spent in Vamos is an exceptional experience for families and children, with a range of well-organized activities on hand coordinated by the well-run Vamos Traditional Village Office. Such activities include guided nature and history walks, traditional cooking classes – for adults and children, and visits to local cheese and honey producers. Local trekking company Faragi Tours has a good reputation for guided walks exploring the area's history and nature, and more serious hiking in the region. Also, look out for Discover Vamos on Foot, one of the best guidebooks for those wanting to get the most out of their visit.
Surrounded by Apokoronas's inspiring landscape and set against the backdrop of the majestic White Mountains, Vamos is an ideal base for hiking in one of the most beautiful areas of Crete.
Photo: @Vamos Traditional Village Office