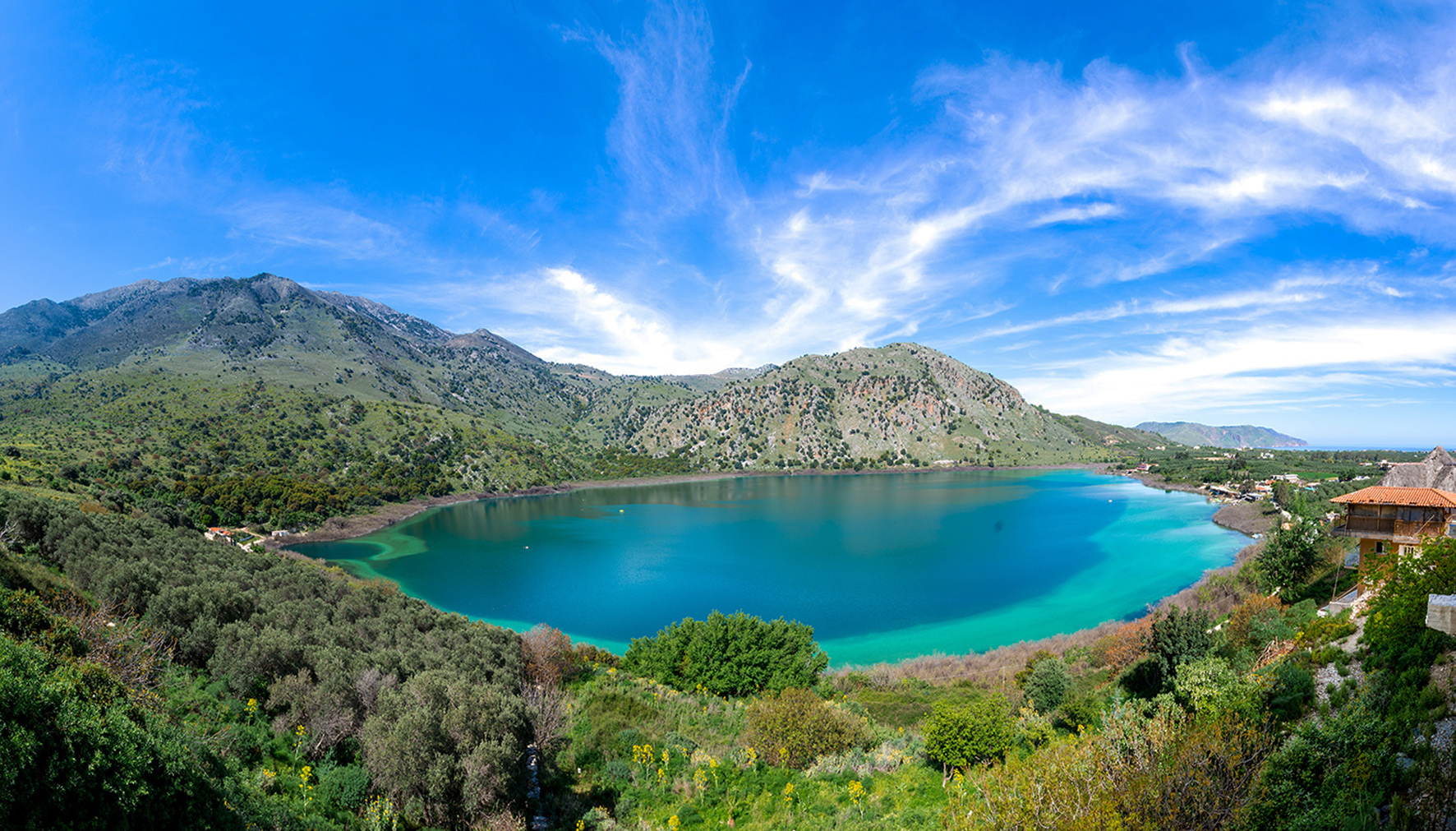 The region in which Georgioupoli sits is one of the greenest and most fertile areas of Crete. Extending from the foothills of the White Mountains to the coast, Apokoronas comprises a wide plain with rolling hills, while to the east, Cape Drapanos rises above – home to Vamos and other delightful smaller villages. Tall pine and cypress trees give many parts of this area an almost Swiss alpine feel.
Apokoronas' most popular seaside resorts include Kalyves and Almyrida
, but it's inland where the essence of rural Apokoronas is to be found, in tiny sleepy villages like Aptera, Douliana, Fres, Gavalochori, Neo Chorio, Stylos and Vrysses. This is a gentle, beguiling landscape, of ancient olive groves and orchards, of leafy shaded country lanes, tiny ancient churches, of ruined Turkish fortresses, and archaeological sites that date back thousands of years.
The name 'Apokoronas' is likely to originate from the ancient city of Ippokoronion, which is believed to have been located near today's village of Nippos, or on the site of the Venetian fortress of Apicorono, between Kalives and Almyrida.
Aptera
The archaeological site of ancient Aptera is to be found on a hill above Souda Bay. Dating from the 7th century BC, Aptera was one of the largest city states in Crete and continuously inhabited until an earthquake flattened it in the 7th century AD. A monastery was established here in the 12th century. The site is open Tuesday to Sunday from 8am-2.30pm.
Kalyves, Almyrida and Plaka
On the coast of Souda Bay, Kalyves is a large village with a good sandy beach and pleasant beachfront tavernas. Further east, Almyrida with its shallow waters makes it a great destination for families with small children. Above Almyrida, the tiny village of Plaka offers stunning views of the Souda Bay and the White Mountains.
Lake Kournas
Just three kilometres inland from Georgioupolis, Lake Kournas is the only freshwater lake in Crete. With small boats for hire, and many good tavernas serving fine Cretan favourites, Lake Kournas makes for a great lunch destination.
Vamos
Vamos, the administrative centre of Apokoronas, offers an insight into a traditional rural life that is hard to match in Crete, due to the efforts of its well-organised tourist office. There are a host of activities on offer including guided nature walks, traditional Cretan cookery classes, and visits to local farms. Largely abandoned in the 1960s, the village was transformed by its younger residents in the 1990s who were keen to showcase local crafts and products of the Apokoronas region. Vamos boasts a number of good restaurants including I Sterna tou Bloumosifi – widely reputed as one of Crete's best tavernas. Popular with British tourists (many of who bought hoilday homes here in the early 2000s) there's even an English butcher offering bacon English-style.
Vrysses
Today the capital of Apokoronas, Vrysses is the tranquil gateway to the White Mountains and Chora Sfakia on the south coast. Simple but inviting, giant plane trees create a shaded canopy over the river here, and stopping to take refreshment at the riverside cafes is a delight. Vrysses is famous for its dairy products, and its creamy yogurt in particular.