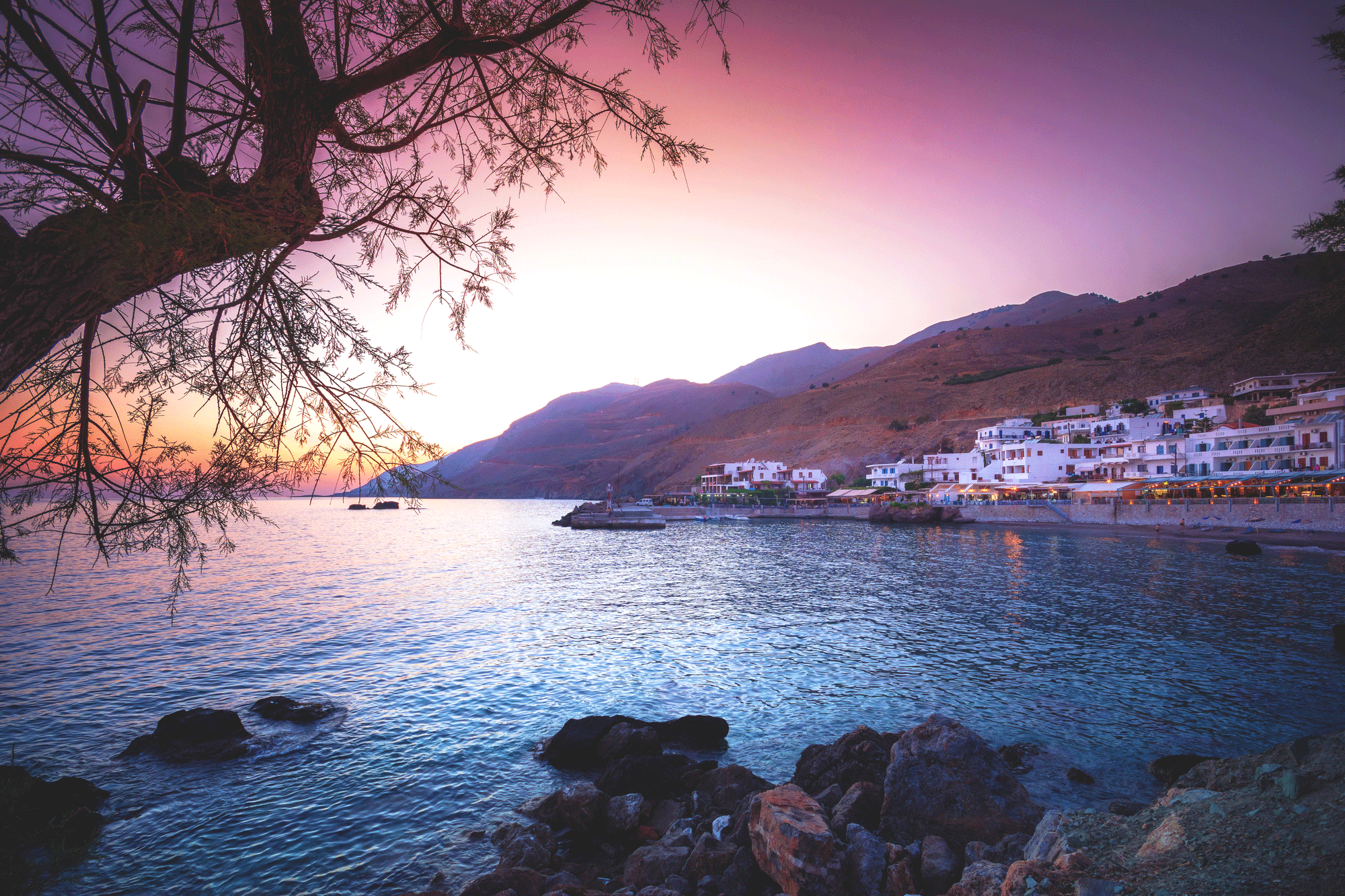 Day Trip to Sfakia, Charming Coastal Village in the South of Crete
Hóra Sfakíon, also known as Chora Sfakion, or simply Sfakia, is a small coastal village in the south of Crete. It will take you about an hour to reach it by car from Georgioupolis and it's worth the drive.
Small and unassuming, with harbourfront tavernas overlooking the cerulean waters of the Mediterranean Sea, Chora Sfakion (or, if you will, Hora Sfakion) has romantic appeal if you are looking to spend a few idyllic moments under the Cretan sun. This destination attracts lovers of active pursuits too, as it offers numerous opportunities to explore – either by sea, under the sea, in the countryside, or in the emerald gorges that lure hikers every summer with a promise of Hollywood blockbuster adventure setting.
Sfakia is surrounded by quaint, beautiful beaches, with clean water, each with its own unique character, some pebbly, others soft and golden. Vrisi is right in Sfakia and it's rather popular. It has sunbeds and umbrellas available for a small fee, plus several taverns where you can tame your hunger or just have a cold beer. Vrisi is the main beach of the village and it occupies the shores of what used to be the old port. Outside Chora Sfakion you'll find many other sunny spots: Ilingas and Filaki, which are pebbly and have naturist parts too; and the Sweet Water Beach, which can be reached by boat or after a one-hour walk on the coastal path, featuring sweet water wells, caves, and even a camping site. Other beaches include Marmara, Ammoudi, Frangokastello, and other laid-back hideaways waiting for you to discover them.
You can even adventure under the sea, scuba diving or snorkeling, and, if it's your first time, experts from the Notos Mare diving center can assist you. This company also offers boating and yachting services.
The best thing about Sfakia is the variety of attractions that make your visit a new discovery experience every time. If lazy days on the beach are not your thing, you can always explore the stunning natural gorges of the area, or hike on the idyllic mountain slopes and take in the breathtaking views of the Libyan Sea.
Sfakia is dominated by the Lefka Ori (White Mountains), with the stunning Pachnes rising above the world. There are 20 summits to discover if you want to witness the most beautiful views in the world. There are all kinds of trails to appeal to adventurers of all ages, but note that some of the 50 walks in Sfakia are just for experienced trekkers.
Sfakia is the largest municipality of Crete, and, as such, besides Chora Sfakion it has many other alluring villages: Patsianos, Skaloti, Agia Roumeli, Agios Ioannis, Ágios Nektários, Anopoli, Arádena, Askifou, Asfendou, Imbros, Frangokástello, and others. The abandoned village Samariá at the heart of the famous Samaria Gorge is in Sfakia too.
If you decide to visit Sfakia, the official website of the region offers a wealth of information, tips, and guides.