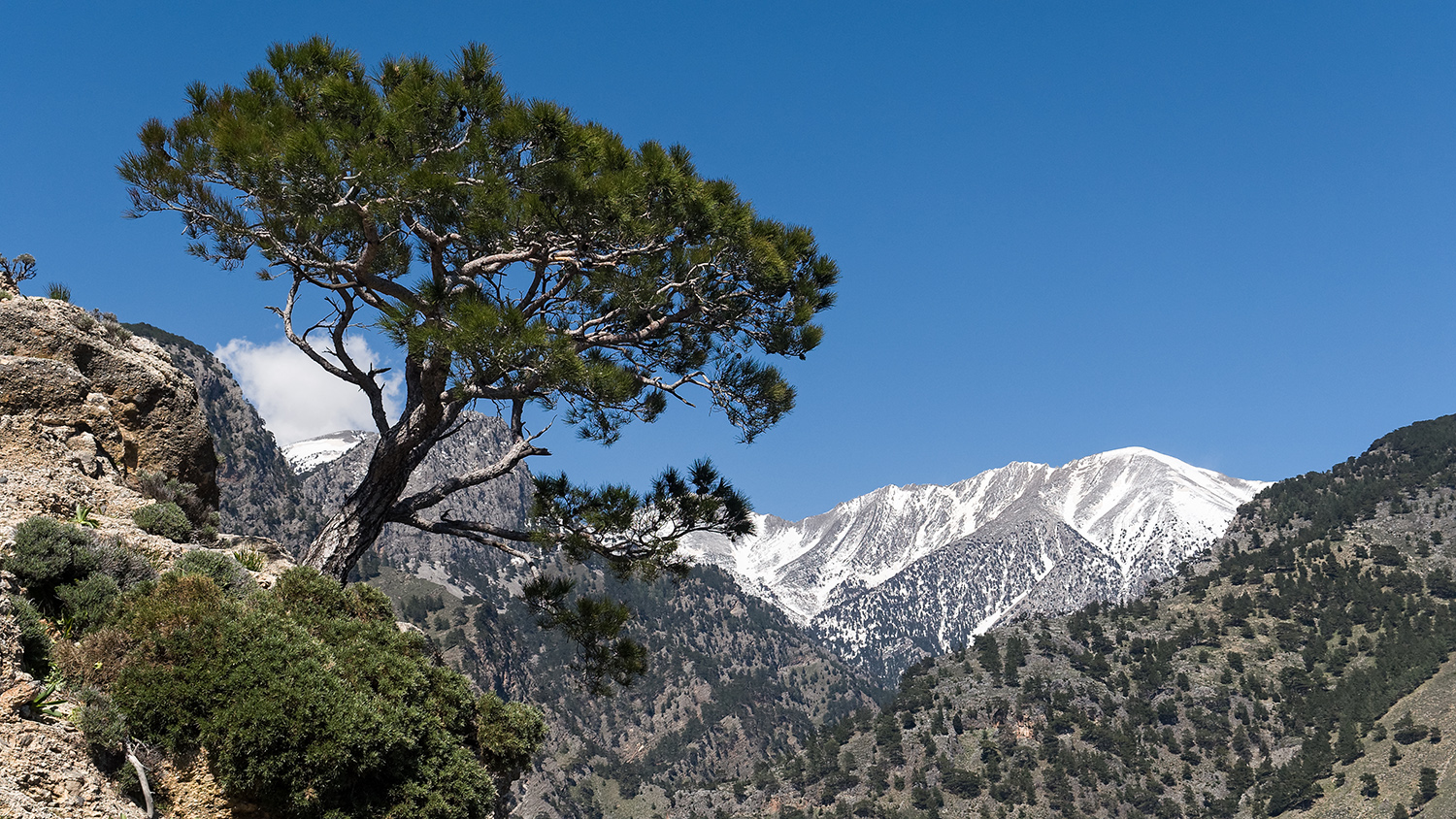 Explore the White Mountains
Majestic and inspiring, the White Mountains of Crete are snowcapped as Easter approaches and they may well stay that way until June. The Lefka Ori, as they're known in Greek, are the island's most famous mountain range, and a journey through them – whether a serious hike or simply an exhilarating drive – is a must for any visitor to Crete.
There are only a handful of roads that lead into these majestic mountains: from Apokoronas, the easiest route is through Vrysses and up towards the Askifou plateau, heading for Chora Sfakion. This is one of the great road trips of Crete and offers amazing views. It's also a very good road and the journey from Vrysses to up and over the mountains to the south coast will take less than an hour. A much more challenging drive takes you through Argyroupoli and Asi Gonia, an iconic Lefka Ori village that is well worth a visit.
With more than 30 summits over 2000 meters, the highest peak of the Lefka Ori is Pachnes at 2453 meters, and for the most serious hikers, it's possible to stay overnight at the Kallergi Refuge near Pachnes' summit. An easier Lefka Ori destination and hiking experience is the world-famous Samaria Gorge, visited by more than 140,000 people a year.
You'll need to take the road west of Chania and up to the Omalos plateau to begin your Samaria adventure, but don't forget, these awesome mountains have many more gorges to explore, such as Aradena and Imbros (both near Chora Sfakion), and on the Chania side, at Therisso.
What any hike will prove, is that the White Mountains are a nature lover's paradise. Almost half the 1500 plant species of western Crete are found on the mountains' slopes and valleys, many not only unique to the island, but to the range itself. And these highlands are saturated not just in pristine nature, but Cretan history itself. For hundreds of years the mountains were a natural fortress for the Cretan people as they fought the island's regular invaders – from pirates to the Venetians and the Ottoman empire, and in modern times, the Germans during the Second World War.
While it's possible to walk large areas of the White Mountains on your own, it is strongly recommended to take an organised trip when attempting the most challenging hikes.
Two organisations provide expert advice and can recommend guides:
The Greek Mountaineering Club of Rethymno – email: eosrethymnou@gmail.com
The Greek Mountaineering Club of Chania, email: eoshania@otenet.gr