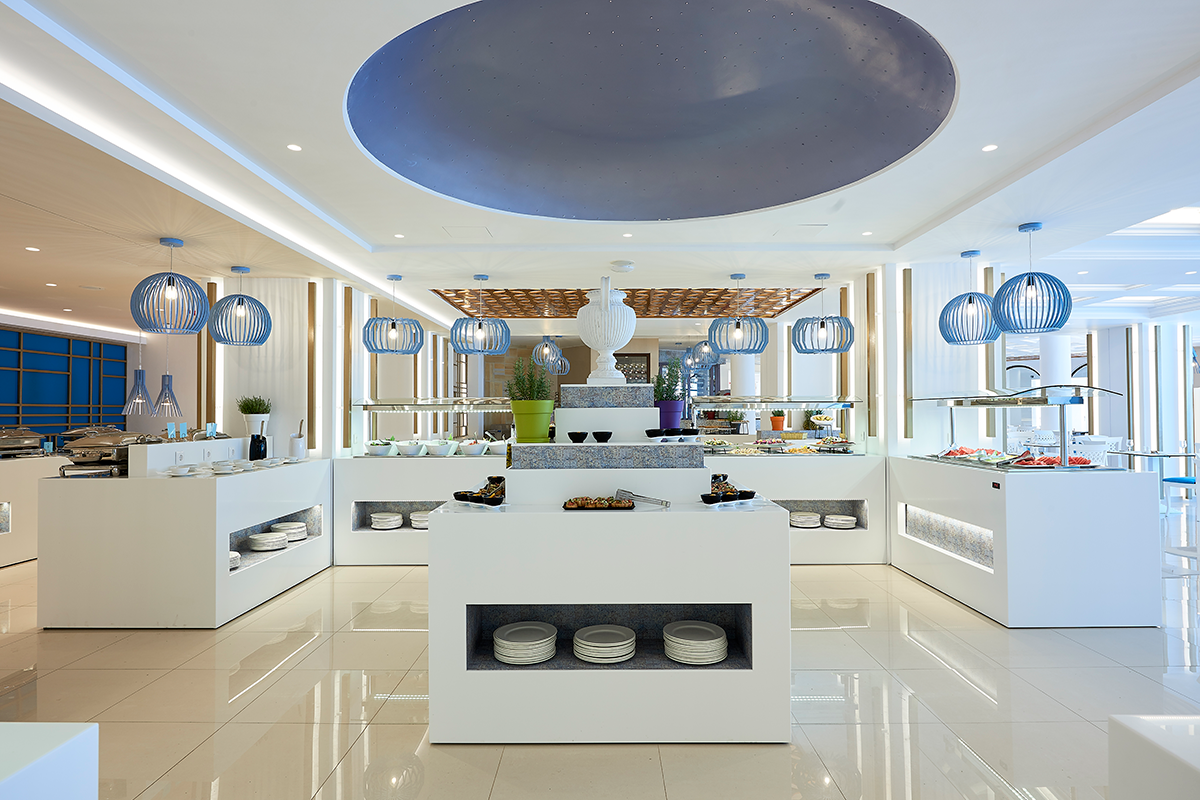 Unforgettable Moments: Dining at Mythos Palace Resort & Spa
Mythos Palace Resort & Spa, one of our three flagship Georgioupoli resorts, is a family-friendly destination that offers unforgettable culinary experiences for guests of all ages.
Mythos Palace Resort & Spa promises authentic Cretan hospitality and culinary experiences that satisfy every guest. While particular emphasis is given to the world-renowned Cretan diet, the resort caters to guests who prefer international flavors as well. From the main restaurant to the pool bar, you will always find something delicious to tame your hunger when you stay with us. We have recently renovated and refurbished all our restaurants and bars to offer you, in addition to a great culinary journey, unforgettable moments in elegant surroundings that relax and stimulate your palate. White dominates the new design of the dining areas, with soft blue accents that remind of the bright summer skies.
The colors of the fresh produce lining the self-service bar in the main restaurant are vibrant and appetizing. The main restaurant serves breakfast, lunch, and dinner every day. The occasional thematic nights add a plus of diversity to the usual menus: Greek Nights come accompanied by music and classic dishes, while the Fish Nights give you an opportunity to taste the freshest from the bounty of the sea in a diversity of dishes. The restaurant also offers a broad selection of wines, featuring domestic Cretan vintages, as well as Greek and international choices. You can sit indoors, or on the terrace, to take in the fresh breeze and the sunshine.
If you are in the mood for pizza and pasta, you can enjoy them at our buffet-style Italian restaurant, or you can choose the Beach Restaurant for BBQ. These two restaurants are open on interchangeable days for dinner.
The sweet corner at Mythos Palace Resort & Spa offers desserts to crown your main meals, but also crepes, ice cream, and other treats every evening.
Last, but not least, you can enjoy a variety of virgin and alcoholic cocktails at our bars. There are three bars to choose from:
The Main Bar:

with an indoor area and a sunny terrace with comfy sofas. This is a lively meeting point for our guests, due to its welcoming atmosphere, but also because here we organize theme nights and recreational shows that will entertain you and give a pleasant touch to your stay.

The Beach Bar:

is easily recognizable for its reed kiosk with the rattan details. It serves fresh juices, refreshing cocktails, coffee, beer, wines, and tasty snacks. From here you can see the beach and the beautiful landscape of the resort.

The Pool Bar:

is the ideal spot to relax with a refreshing beverage under the naked skies. Located by the pool, the bar serves refreshing fresh juices, tasty milk-shakes, artisan cocktails and, of course, coffee, and snacks.