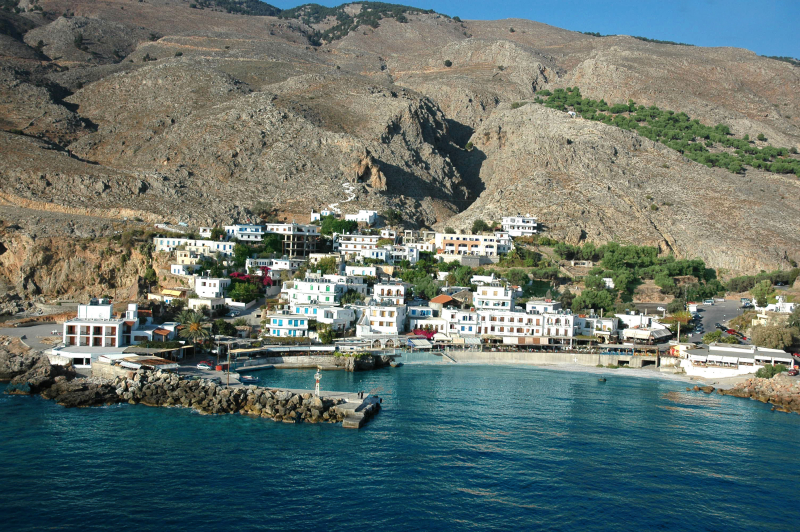 Agia Roumeli
Only a few people know Agia Roumeli that is located in the Sfakia area and most specifically on the south coast of the prefecture of Chania between Sfakia and Palaiochora. Instead, most people know the famous Samaria Gorge that is visited by more than 350.000 tourists every year.
Agia Roumeli is located at the end of the Samaria Gorge and it is a small village. Most people visit Agia Roumeli only in order to take the ferry that will transport them back to Sfakia or to Sougia.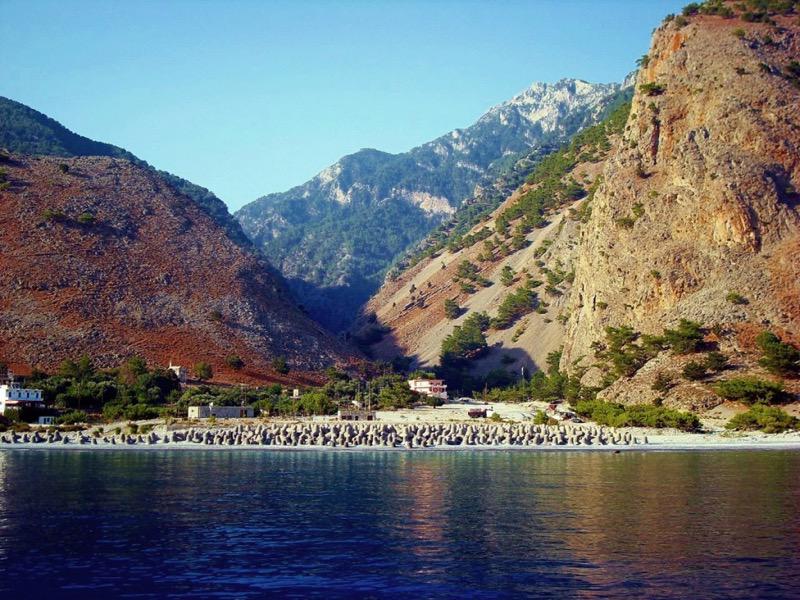 The magnificent thing about this village is the fact this village is isolated from any other area and that there are no cars there! You can only reach Agia Roumeli by boat or by crossing the Gorge of Samaria.
After walking for many hours in the Samaria Gorge, it is a great relief to see the first houses and apartments in Agia Roumeli. Only a few meters after the first houses, visitors can see plenty of taverns where they can enjoy a traditional Cretan meal.
Agia Roumeli also has a wonderful beach, though only a few people choose to spend the night there, since they are in a hurry to catch the last ferry back to Loutro or Sfakia.
Nevertheless, those who choose to spend the night in Agia Roumeli find that the scenery there is magnificent. After the tourists have gone, Agia Roumeli is a quiet village and the colors of the sunset will amaze you. You have the chance to enjoy the serenity of the area and the beauty of this village.
As mentioned above, there are plenty of tavernas in Agia Roumeli, where you can enjoy the authentic Sfakian pies and the Cretan Gastronomy. If you are not too tired, you can swim in the beach of Agia Roumeli or take a walk in the village.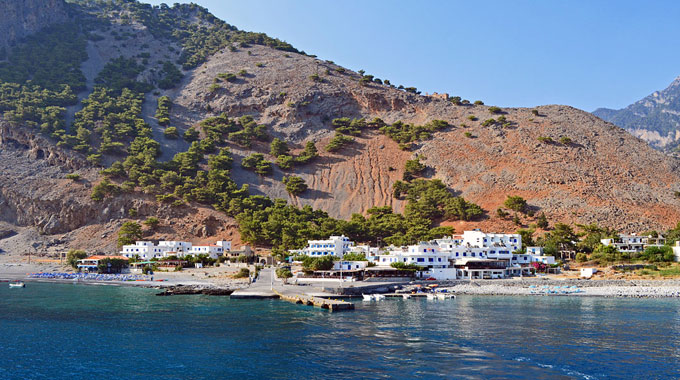 We should also mention the Turkish castle that is located on top of the hill. Many people choose to climb the hill in order not only to admire the castle, but also in order to enjoy the wonderful view of the Libyan Sea.
If you walk to the east, you will reach the beach with the pines and the Byzantine church of Agios Pavlos. It was given that name because Agios Pavlos visited during one of his trips.
In any case, if you choose to visit Agia Roumeli, you should ask the locals about directions and any other information you might need. They are really friendly and helpful!
If you are staying in one of our hotels in Georgioupolis, we suggest visiting the Samaria Gorge and explore Agia Roumeli!