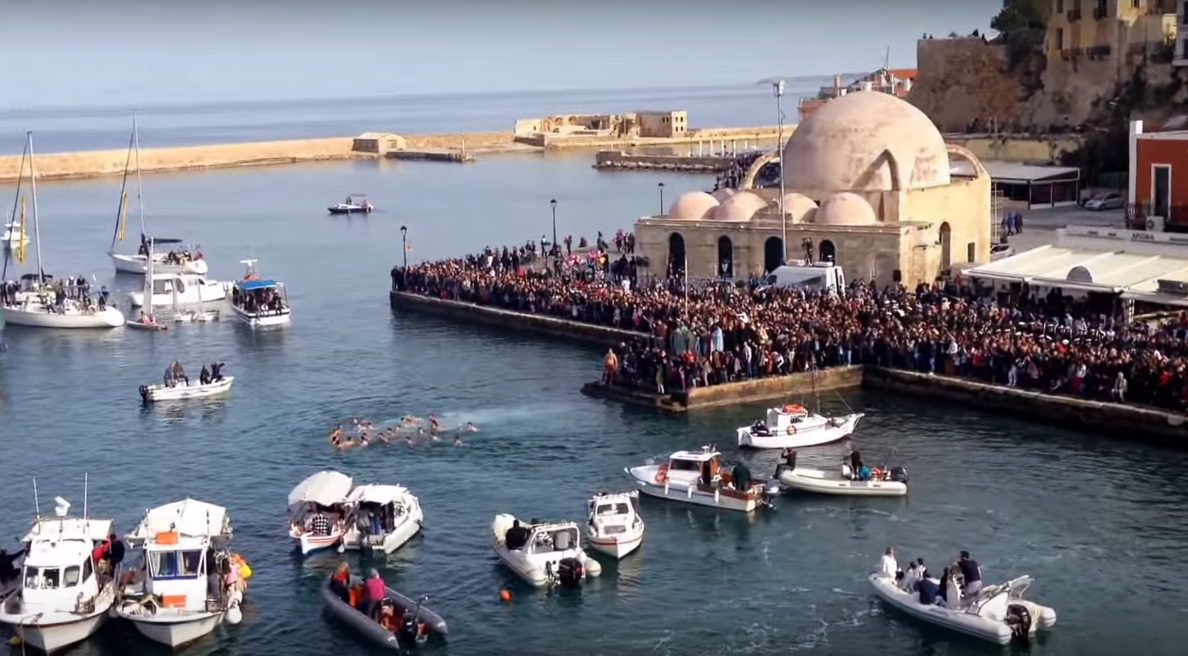 Theophania and the Blessing of the Waters
January 6th is a special date in the Christian calendar, particularly for the Greek Orthodox faith. The 12th day of Christmas marks Epiphany – the celebration of Christ's baptism and His manifestation to the world as the Son of God. Known in Greece as Theophania, the highlight of this feast day (second only to Easter in its importance for Greeks) is a ceremony called Agiasmos – the Blessing of the Waters.
Conducted by a priest beside open water – usually the sea, a river, or a lake, it's a ritual observed across the country and by Greek communities around the world.
In Crete, one of the most popular ceremonies takes place in Chania at the Venetian Port, where hundreds of spectators line the harbor's edge to share in the joyful celebrations. With clouds of holy incense wafting across the port, the waterside service begins when the priest reads from the Old Testament's Book of Psalms, while beside him a group of scantily-clad men stand ready for a bracing mid-winter swim.
After the final prayer, the priest raises his arm and hurls a wooden crucifix out across the water. As he does, the swimmers dive headfirst and thrash frantically to where the cross has landed. With lungs bursting and hearts pumping, they converge, desperate to feel it in their grasp. Stretching out to grab the holy prize, the winner clutches the cross before kissing it and holding it high above their head.
As the crowd honors the victor with cheers, one last act crowns the spectacle. From the priest's hands, a snow-white dove – a symbol of the Holy Spirit – spreads its wings and ascends above the faithful.
Did you know?
The day before Theophania, children go house to house singing kalanta (carols) and are given coins or sweets in return. In churches, on the eve of the feast day, the Mikros Agiasmos (the Lesser Blessing of the Waters) is celebrated, where a bowl of water is sanctified and distributed to the congregation.
Priests often visit homes nearby to bless them using the holy water produced at the Mikros Agiasmos, and sprigs of fresh rosemary. According to legend, the baby Jesus was sheltered under a rosemary bush by the Virgin Mary.
The word 'Theophania' comes from the Ancient Greek Theophanes. Theos meaning 'the divine, deity or God', and Phaíno meaning 'to appear' or 'to reveal'. The feast day is also referred to as ta fota (the lights), a reference to the day the world was illuminated by God's presence.
The English name Tiffany is derived from Theophania.
Traditionally, retrieving the cross is a ritual strictly for men, but in 2018 in the village of Platanias, west of Chania, Maria Varouxaki became one of the first women in Crete to take part and beat her all-male competitors.