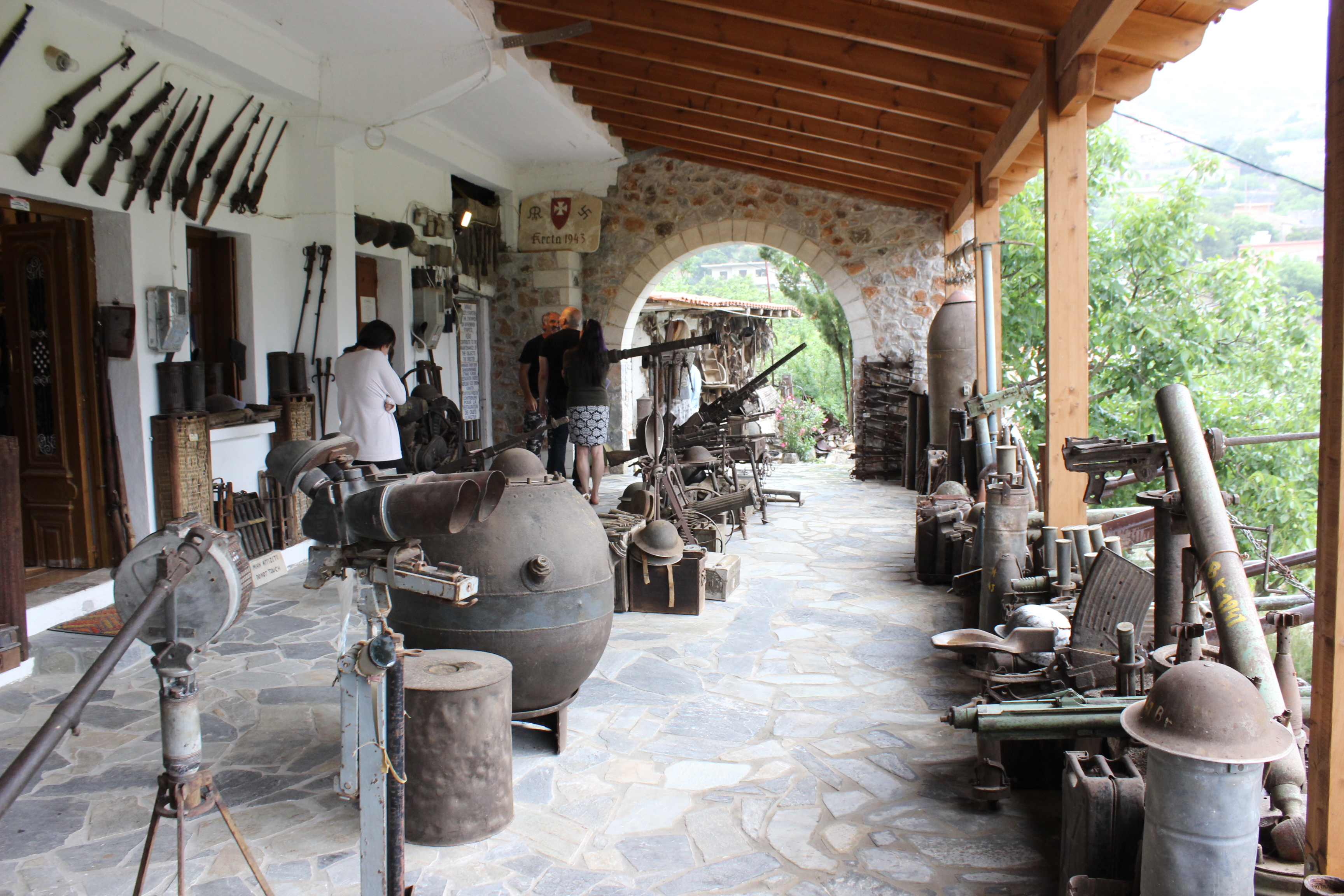 A Visit at the Askifou War Museum
The Askifou War Museum is a private museum in the historic Kares Village on the Askifou plain located north of Sfakia about 40 minutes drive from Georgioupolis.
The museum, founded by George A. Hatzidakis, showcases over 2000 items, including weapons, war memorabilia, and documents from the World War II.
Hatzidakis, who was a child during the war, witnessed merciless bombardments and other horrors of the war, including the loss of his dear sister. The museum is currently curated by Andrew G. Hatzidakis, George A. Hatzidakis son, who hopes to further expand the collection to create a larger museum. As it stands today, the museum offers an unusual, unique experience. Most items have not been restored, and they are displayed as they were found, some indoors, and many outside, in the private garden of the house. Sea mines, World War II anti-aircraft guns, bombs, cannonballs, helmets and equipment hanging on the fence, jerry cans, and scrap make for an odd collection outdoors. The experience is one of the most unique in this part of the island.
Although the Askifou War Museum is not recognized as a museum by the Greek authorities, visitors recommend it as one of the best and largest private collections on the island. It is worth to visit it also to enjoy the beautiful countryside and the splendid landscapes of the fertile plateau of Askifou, which is surrounded by high mountain peaks with abundant vegetation. If you are in the area, find the Askifou – Asfendou- Kallikratis trail for a drive or for a hike in nature. The route crosses the scenic and wild east part of the White Mountains, offering amazing views.
For more information, opening hours, and location, visit the official website of the museum here. Entrance is free. Featured photography by Jakednb, CC BY-SA 4.0, official image here