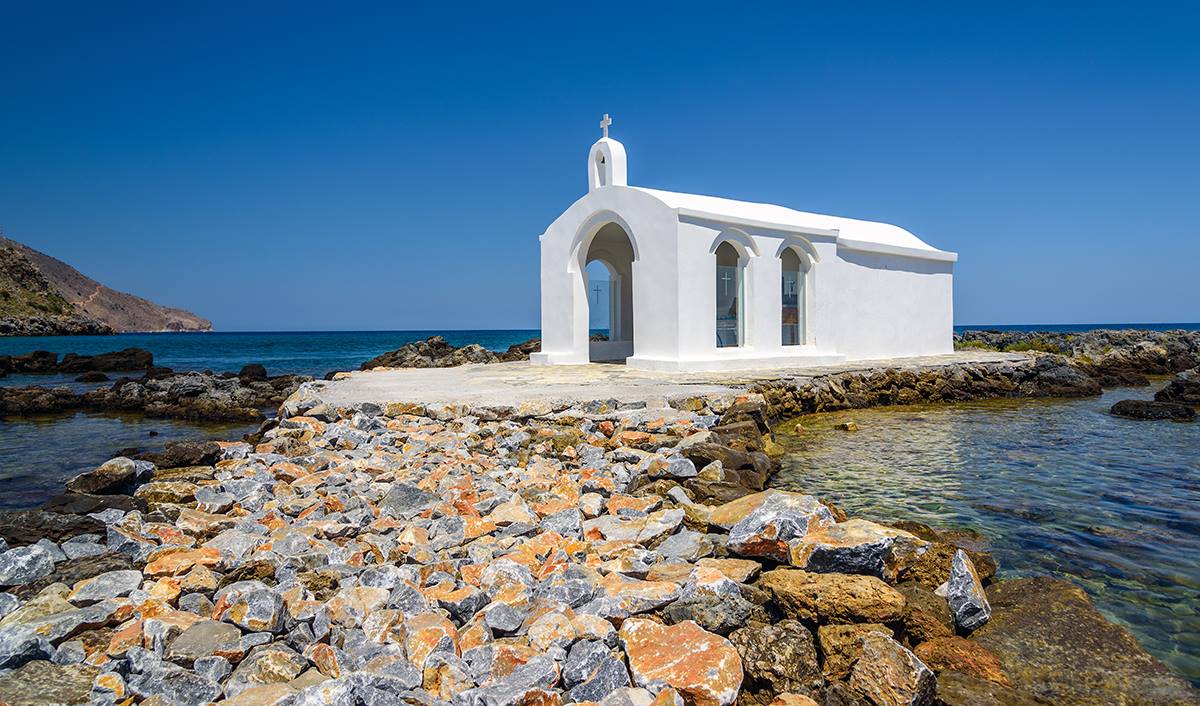 Agios Nikolaos Church: a Small Georgioupoli Gem
One of the most photographed landmarks in this part of Crete, the small Agios Nikolaos Church is the sparkling gem of Georgioupoli. It is, in fact, a whitewashed chapel, built on a small rocky islet and not so easily accessible on foot.
Because of its location, Agios Nikolaos Church appears to be emerging from the Aegean Sea. The chapel is dedicated to St. Nicholas (Ἅγιος Νικόλαος), the patron of sailors. Yes, this is the same saint who inspired the legend of Santa Claus.
The charming white chapel is a favorite choice for weddings on Crete, and many couples choose it for Greek Orthodox ceremonies, but also a splendid location for photographs and memories that last a lifetime. Take your time to light a candle and pray, or just enjoy the peace of the church is you are not a religious person. It is free to visit the church, but you can make a small donation inside if you want.
Access to the chapel is difficult for people with disabilities. Make sure to wear proper footwear, as the path is rocky and slippery, but the effort is well worth it for its romantic appeal and unique views. Do not attempt the walk under poor weather. Walk carefully, as there are many crabs between the rocks.
The chapel can also be admired from the main Georgioupolis Beach, and you can always use your camera to capture the building from the distance, against the blue of the sky and the sea. You will have your own postcard from Georgioupoli, as the chapel is the symbol of the village.
The small church is considered to be among the most beautiful religious monuments of Crete and Greece. The names of the architect and builder are unknown, but it is known that Agios Nikolaos was erected about a century ago by a sailor. If you happen to visit the church offseason, there is a lovely Greek Orthodox service on the day of the saint, December 6.
During the tourist season, you can see wedding parties, an occasional musician performing, and tourists struggling on the causeway to reach the church wearing flip flops. The inside of the church is modest, with a few Greek Orthodox icons of Mary and St. Nicholas among others, plus a small table with candles for offering, and a place to light them.